WHERE WE OPERATE
The map below gives an indication of our main area of service. As you can see, we mainly focus on the areas Hunsrück, Palatinate (Pfalz), Wonnegau, Rheingau, Hesse (Hessen), Saarland and the northern parts of Baden-Württemberg.
But beyond that, there is no place in Europe we can't take you to.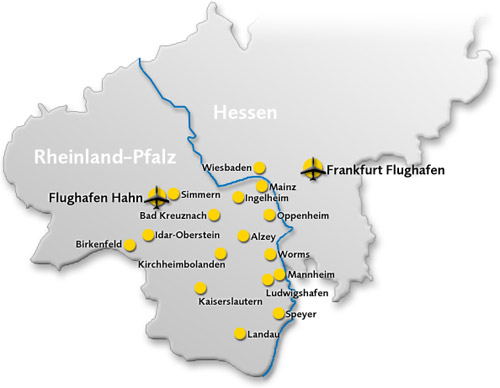 We offer a direct service without waiting time. If it is personal service and reliability you are looking for, then you have come to the right place. We combine professionalism and expertise with an individual and personal approach!
About us
Our company is based in Alzey (Rheinhessen) and has a long-standing reputation as a reliable partner for airport transfers. Established in 1974, we now not only transfer customers to Frankfurt and other German airports but to airports all over Europe.
All our vehicles are of course clean, tidy and in top condition. Our drivers pride themselves on their friendliness and professional approach. So all you have to do is sit back and enjoy a carefree ride to the airport or back home.